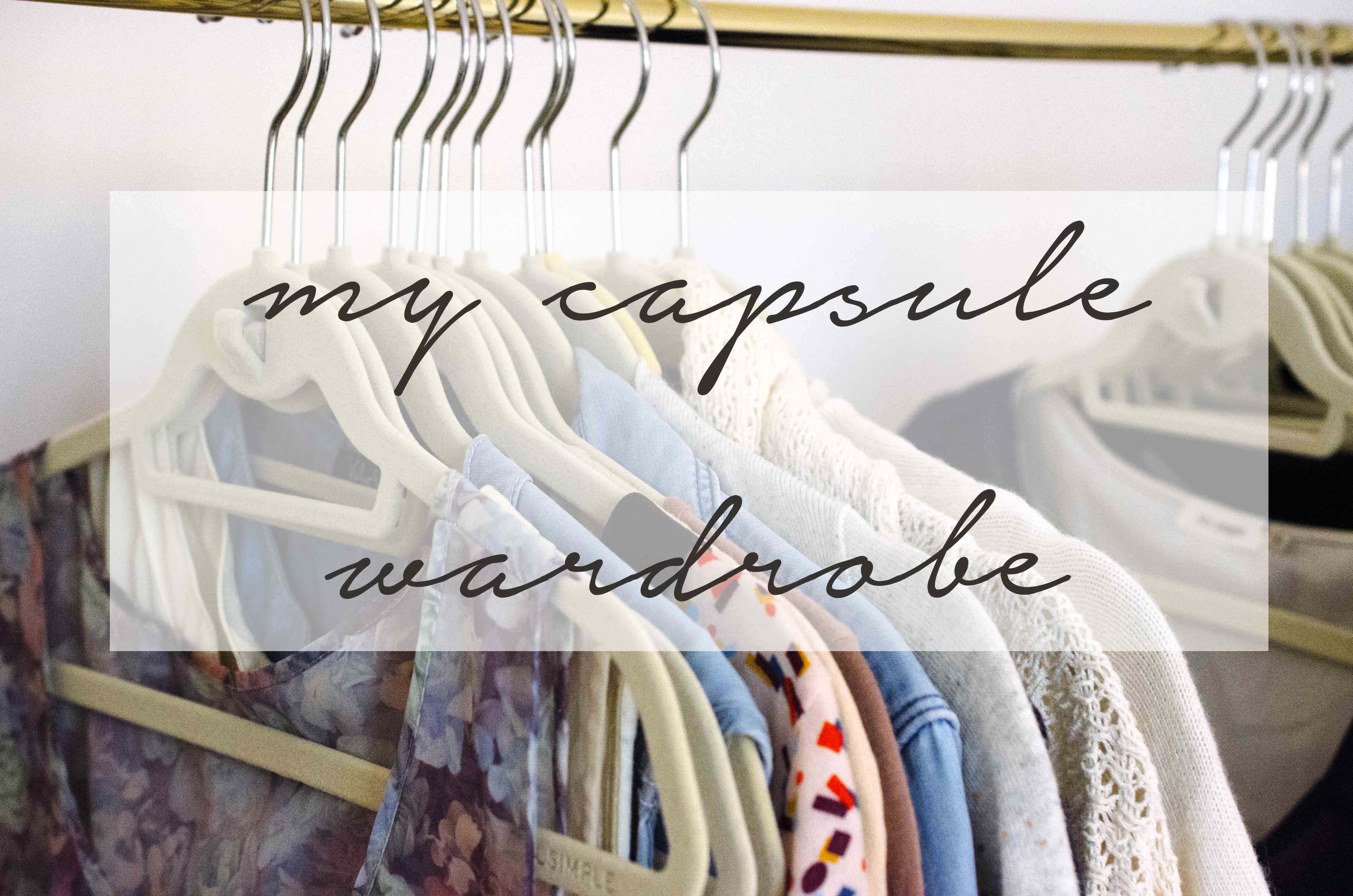 I can't say that I'm really a New Year's resolution person… but at the same time, a new year does feel like a great time to try / start new things. And it seemed like an especially opportune time to try out a capsule wardrobe. It's something that has been popping up a ton lately on blogs I read (see here, here, and here), and there's something about it that really appeals to me. But first, you might be wondering… what is it?
Basically, it's a full wardrobe consisting of less than 40 articles of clothing. And you select this wardrobe for 3 months at a time (a season), and then switch it up, but always keeping it under 40 pieces. Simple. Minimalist.
But then… why would I / anyone want to do this?
First of all, I have a lot of clothes. A lot. And it was everywhere…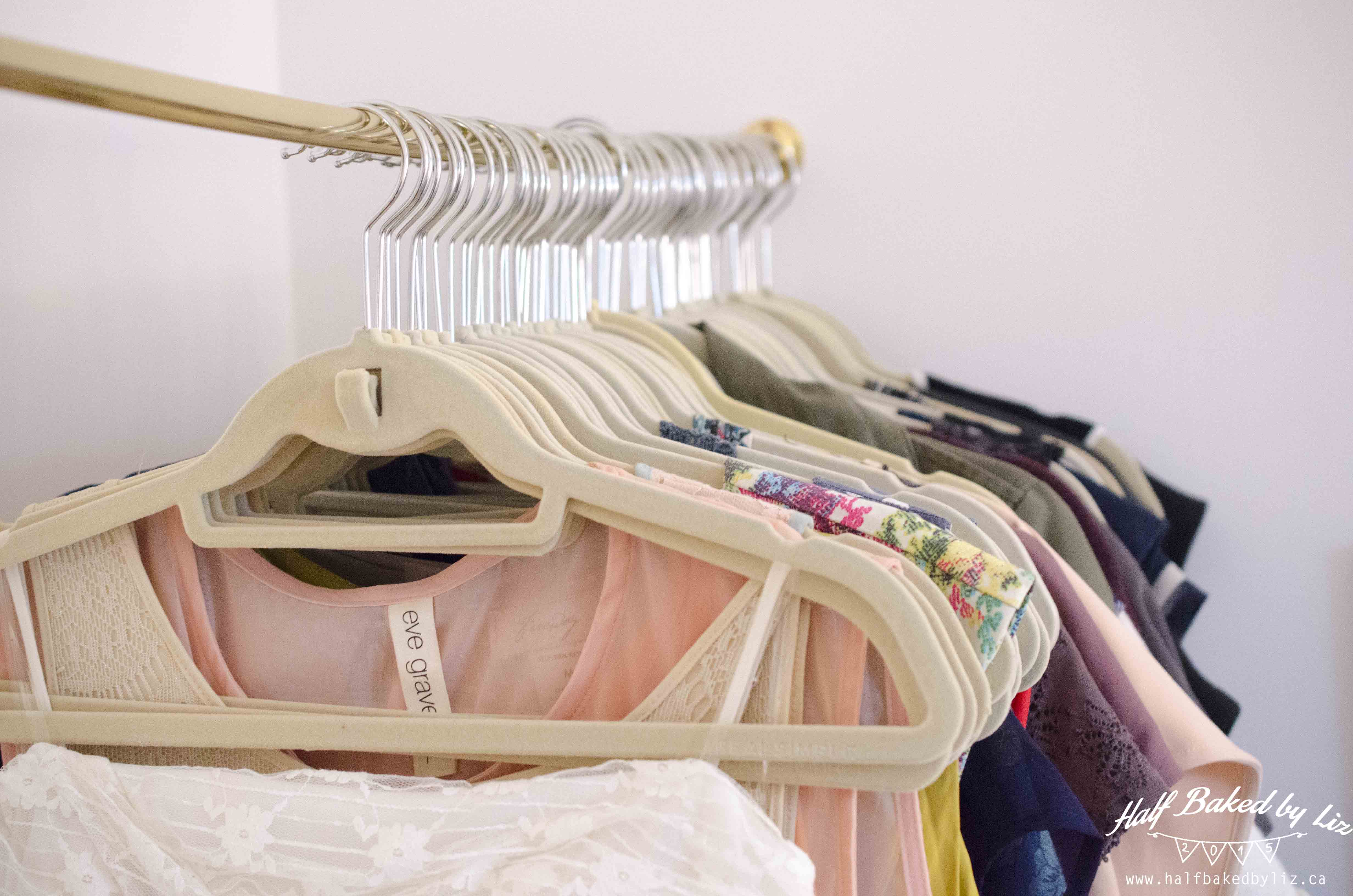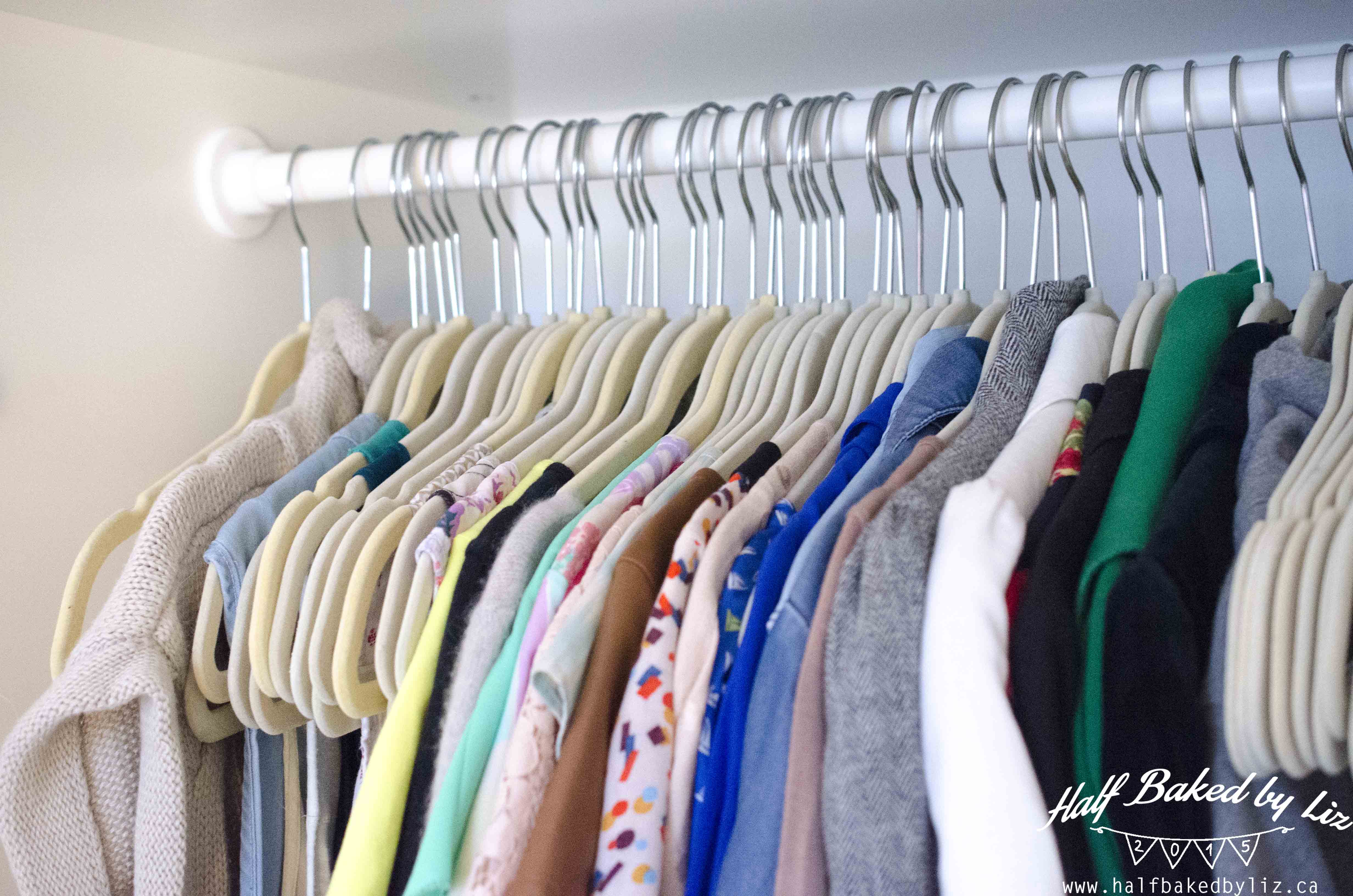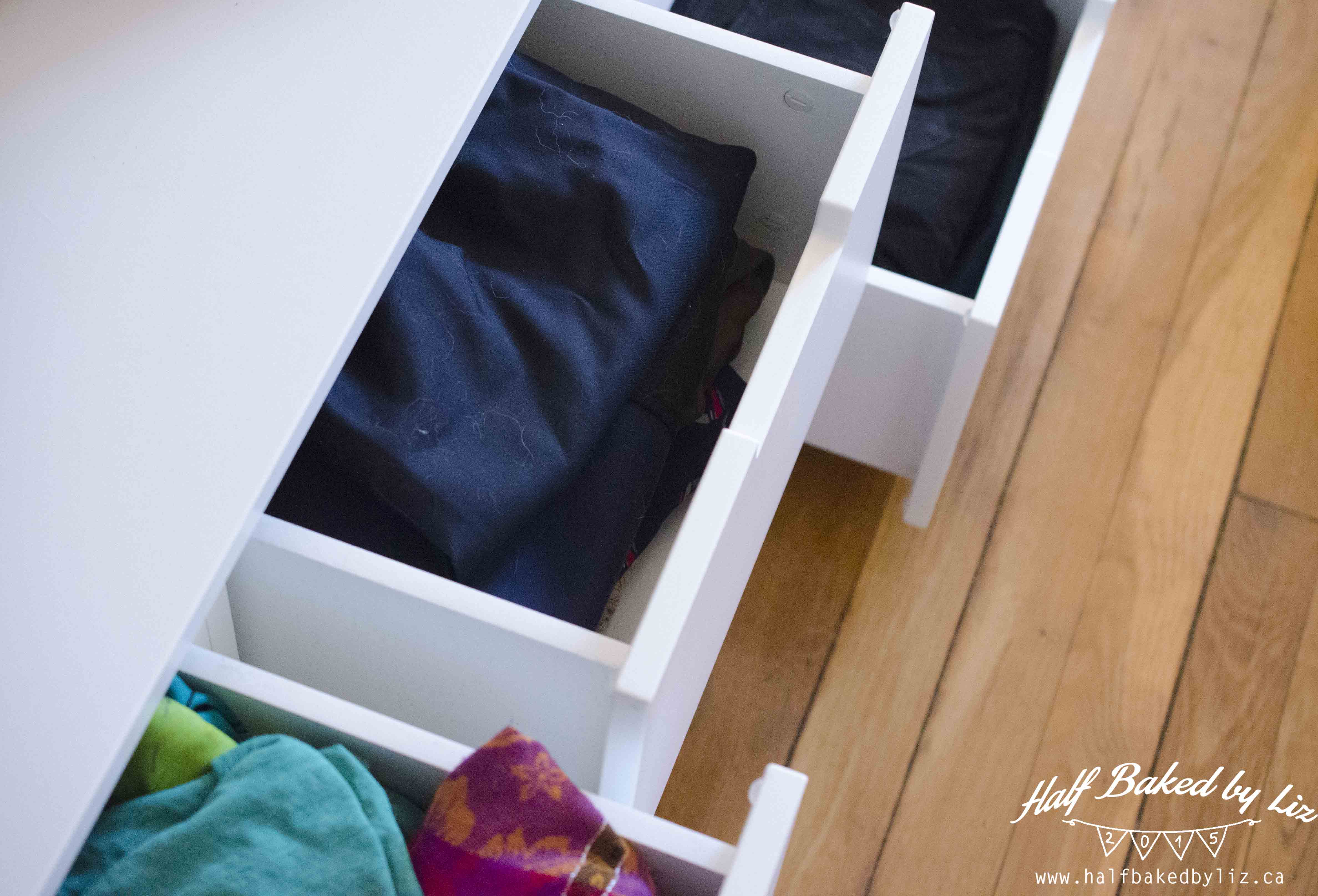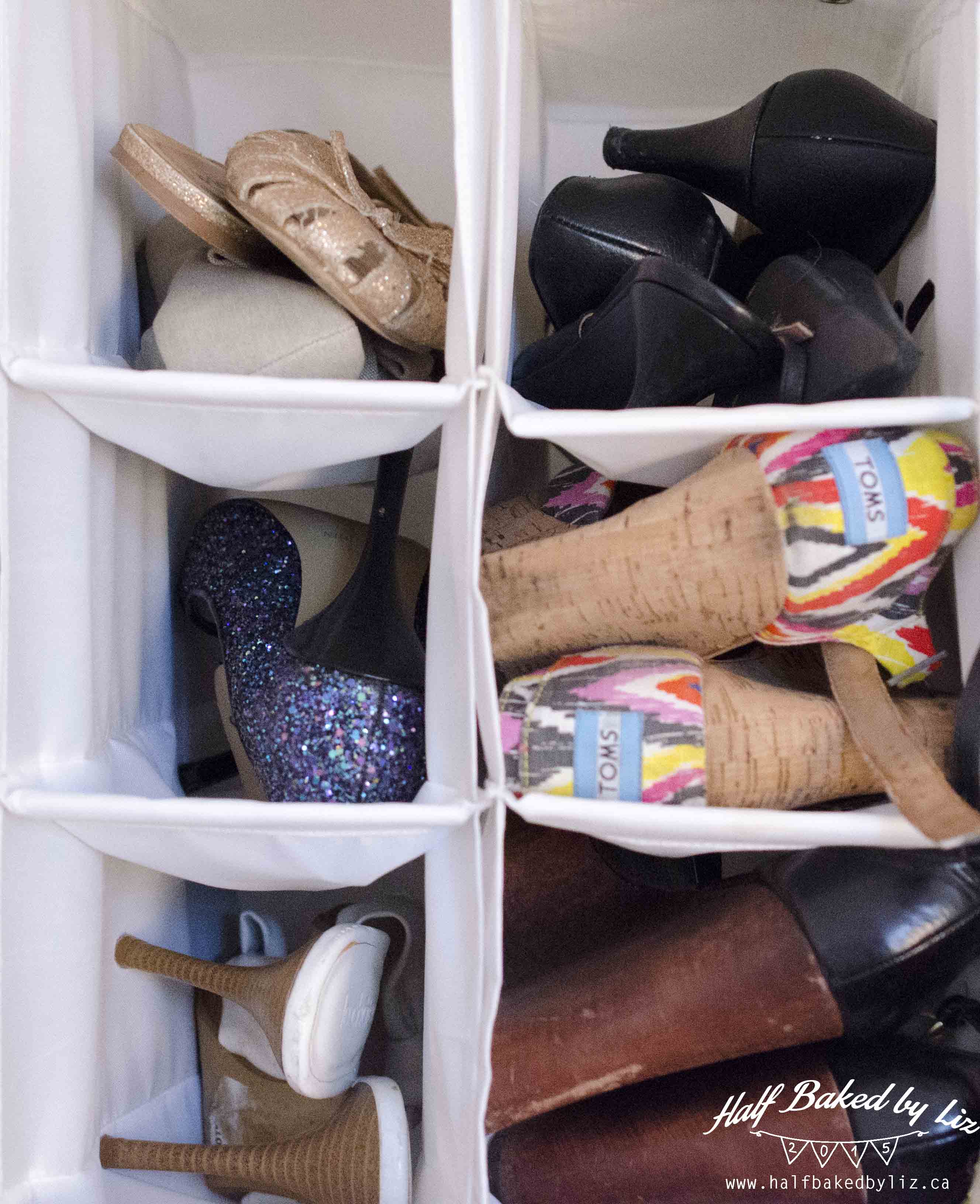 But even though I have overflowing closets, I find myself oogling clothes in store windows and magazines. Which when I really think about it, is a bit ridiculous. I don't need anything. Why am I not satisfied with the clothes I have? So many people who have tried this capsule wardrobe idea (I think the idea started with Project 333) have said that pairing down your closet to the things you really love ends up making you happier with less. Other perks? It takes the deciding out of what to wear in the morning; it means I won't have drawers and closets full of things that "I might wear sometime", but never do; and more space that's not being taken up with clothes that I don't really love or don't really fit. And honestly, even with a ton of clothes, I find myself wearing the same favourites over and over again, anyway.
So based on the rules I've read that have been posted by others who are trying this, here are the rules I've laid out for myself:

The total number of items, including tops, bottoms, dresses, shoes, and coats, must be less than 40. My general rule of thumb is 5 pairs of shoes / boots, 5 bottoms, 10 tops, 14 dresses, and 3 jackets. But whatever works for a given season, as long as it's no more than 39!

Accessories (hats, mitts, scarves, jewelry, purses), gym clothes, home-lounging clothes, pyjamas, or underwear.

I'll wear only the selected items for a whole season (Winter = January 1 to March 31; Spring = April 1 to June 30; Summer = July 1 to September 30; Fall = October 1 to December 31). At the end of each season, the items for the next season can be re-used from the previous season, or "new" items from the clothes I've put away.

No buying new things during each season! At the end of each season, I can buy one or two new things, but I'll also give away the items I haven't been wearing, and reassess the items I've been storing. If I don't love it, it's getting donated!

That's four capsule wardrobes. I think I need to try it for that long to really make up my mind. I'm committed. I can do this. I think. And bonus, our bank account will seriously appreciate this lack of shopping.
---
I started by picking out a few of my favourite pieces, then some staples that go with everything (I feel like being able to mix and match is important), and generally tried to stay within my guidelines. Although most other bloggers suggest taking all of the clothing that's not part of the capsule and boxing it up and storing it away, that wasn't really an option for me…. we have very little storage in our apartment as is, and we do have a storage cave, but it's literally a cave and I think it would make stored clothes stinky. So, I put my selected items on an open rack, gathered a bag-full for give-away, and stashed the rest away behind closed doors and drawers.
I ended up with…
…ten tops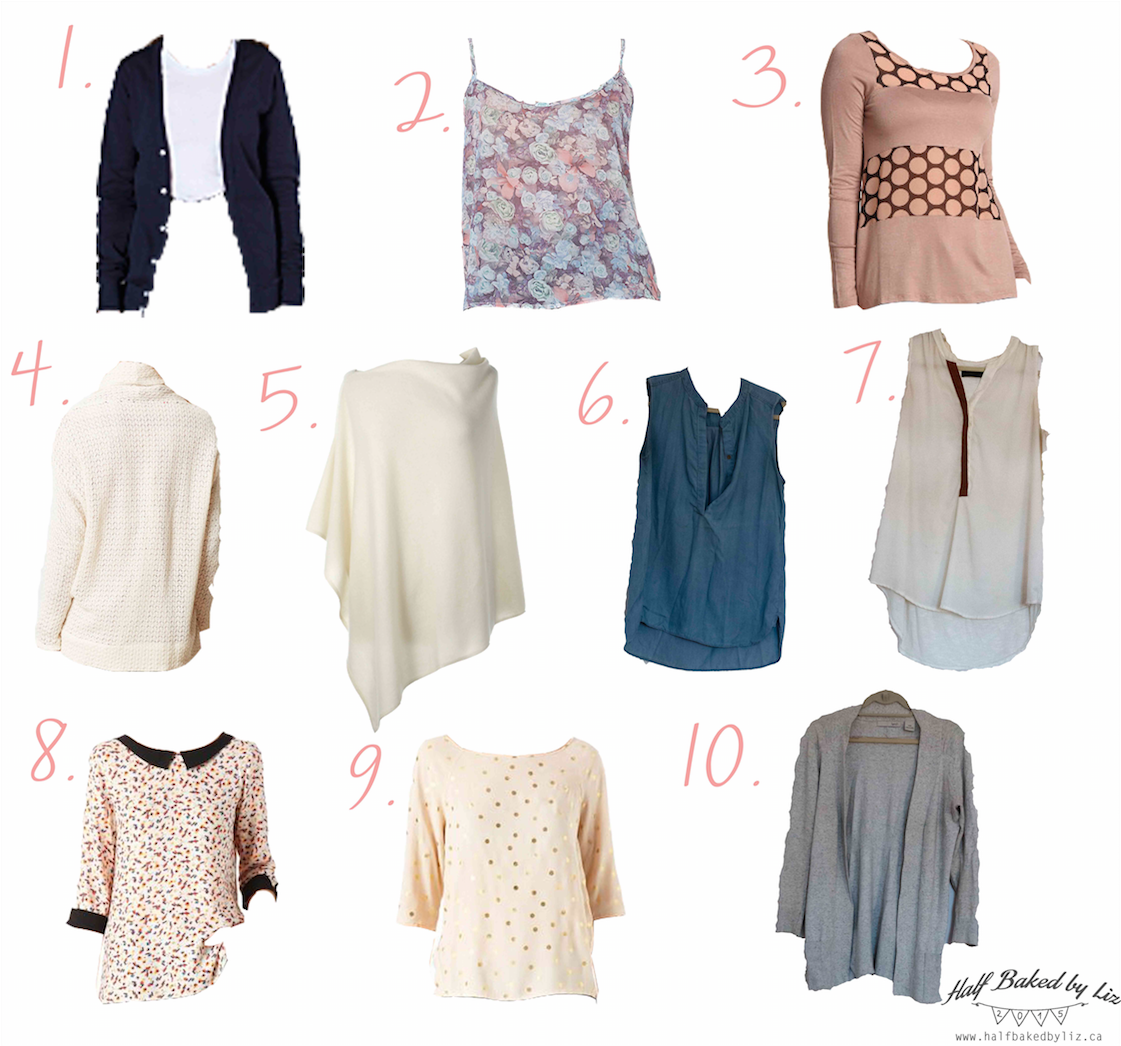 [1. Navy Cardigan, American Apparel | 2. Sheer Floral Tank, American Apparel | 3. Dotted Taupe Top, Coco & Tashi | 4. Knit Cardigan, Anthropologie | 5. Poncho | 6. Denim Tank, Velvet Heart | 7. Sheer Tank w/ Leather Trim, Anthropologie | 8. Confetti Blouse, Promod | 9. Gold Dot Blouse, Promod | 10. Grey Cardigan, Kersh]
…five bottoms
[1. Soft Black Pants, Esprit | 2. Patterned Skirt, Nümph | 3. Faux Leather Skirt, Wilfred | 4. Faux Leather Pants, Esprit | 5. High Waist Grey Jeans, Levis]
… eleven dresses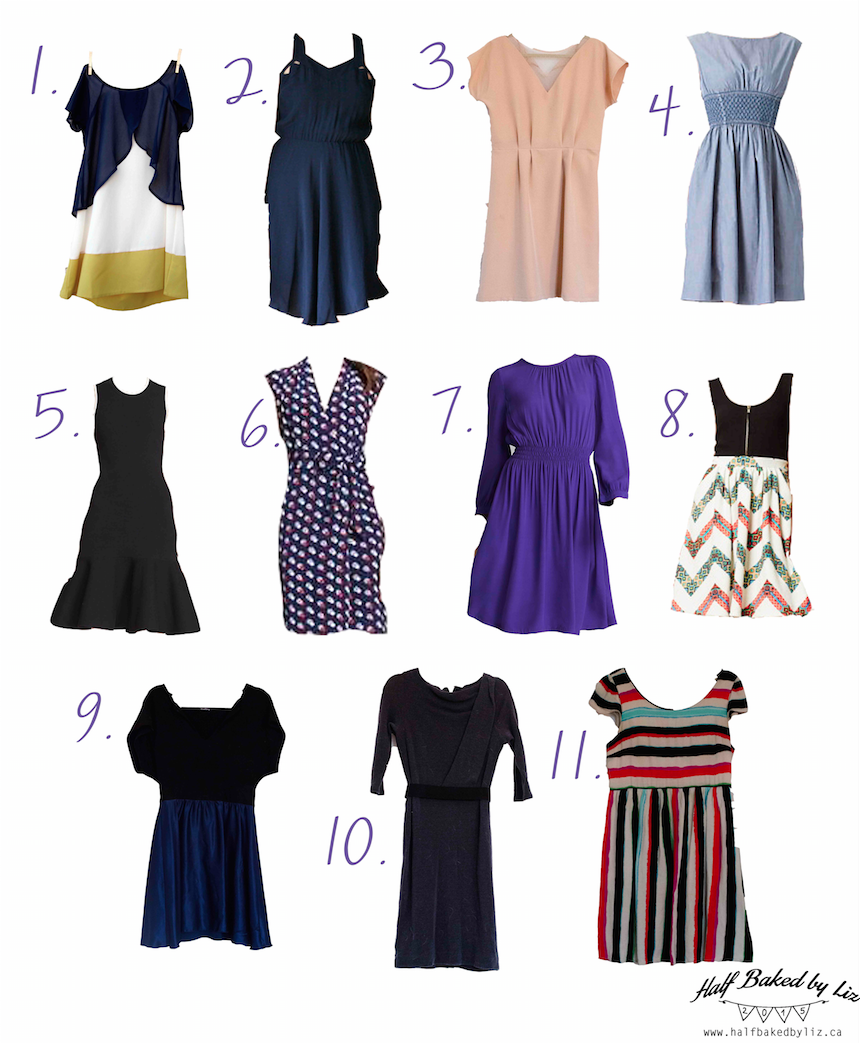 [1. Three Tone Dress, Blu Pepper | 2. Jacamar Dress, Eve Gravel | 3. Peach Dress, Kookaï | 4. Chambray Dress, Kate Spade | 5. Black Sweater Dress, Kate Spade | 6. Printed Dress, Kate Spade | 7. Purple Dress, Kate Spade | 8. Black + Chevron Dress, Anthropologie | 9. Black + Navy Dress, Broken Doll Clothing | 10. Classic Grey Dress, Ann Taylor | 11. Bright Stripes, Anthropologie]
… three coats
[1. Cargo Coat, Gap | 2. Dress Coat w/ Leather Trim, Naf Naf | 3. Furry Parka, Promod]
…and six pairs of shoes / boots.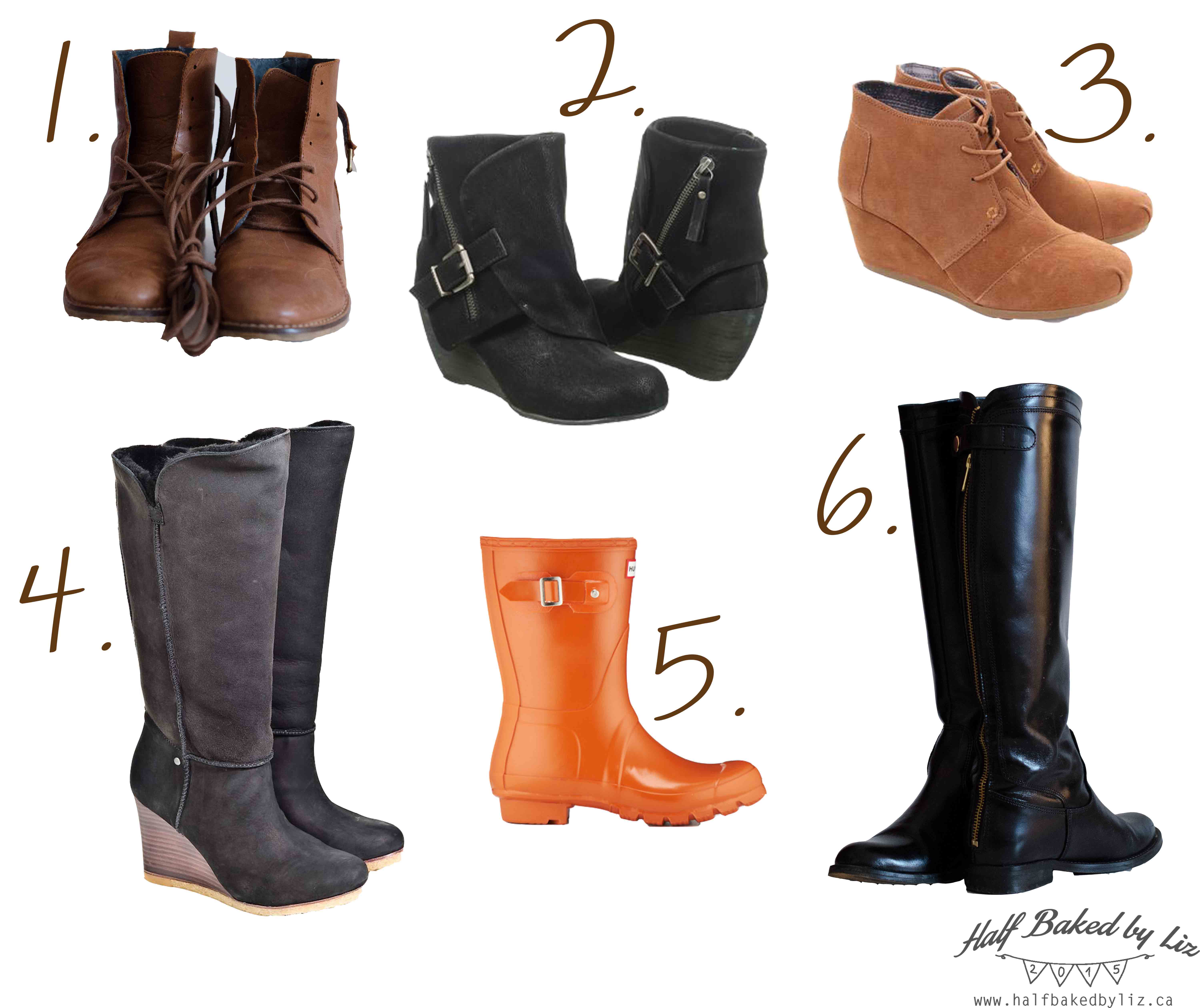 [1. Brown Leather Lace-Ups, Scarpa | 2. Black Wedge Booties, Blowfish | 3. Brown Wedge Booties, Toms | 4. Black Winter Boots w/ Wedge, Ugg | 5. Orange Rubber Boots, Hunter | 6. Tall Black Leather, Jonak Paris]
For a total of 35 items. I'm pretty excited about this. I'll keep you posted!