I blogged a little while ago about the awesome traditional (French) bread-baking course I completed a Le Cordon Bleu. Well, it's high-time I posted some specific breads and recipes! Honestly, as much as I love traditional baguette, learning to make croissants was one of the main reasons for wanting to do this course. So that's where I'll start!
Recipe adapted from bulk recipes provided by Le Cordon Bleu.
INGREDIENTS
makes 12 croissants
*NOTE: The dough must be made the day beforehand!
400 g flour (if in France, use 200 g T45 + 200 g T55)
8 g salt
8 g yeast
48 g sugar
128 mL ice-cold water
80 mL cold milk
40 g unsalted butter, room temperature
190 g unsalted butter, cold, divided into two 95 g chunks
egg wash (whisk together 1 egg + 1 yolk)
DIRECTIONS
Add the flour, salt, yeast, and sugar to the bowl of an electric mixer (ensuring that the salt, yeast, and sugar are placed away from one another, in separate piles). Gently pour in the water and milk. Mix on low speed with a dough hook until everything is well combined.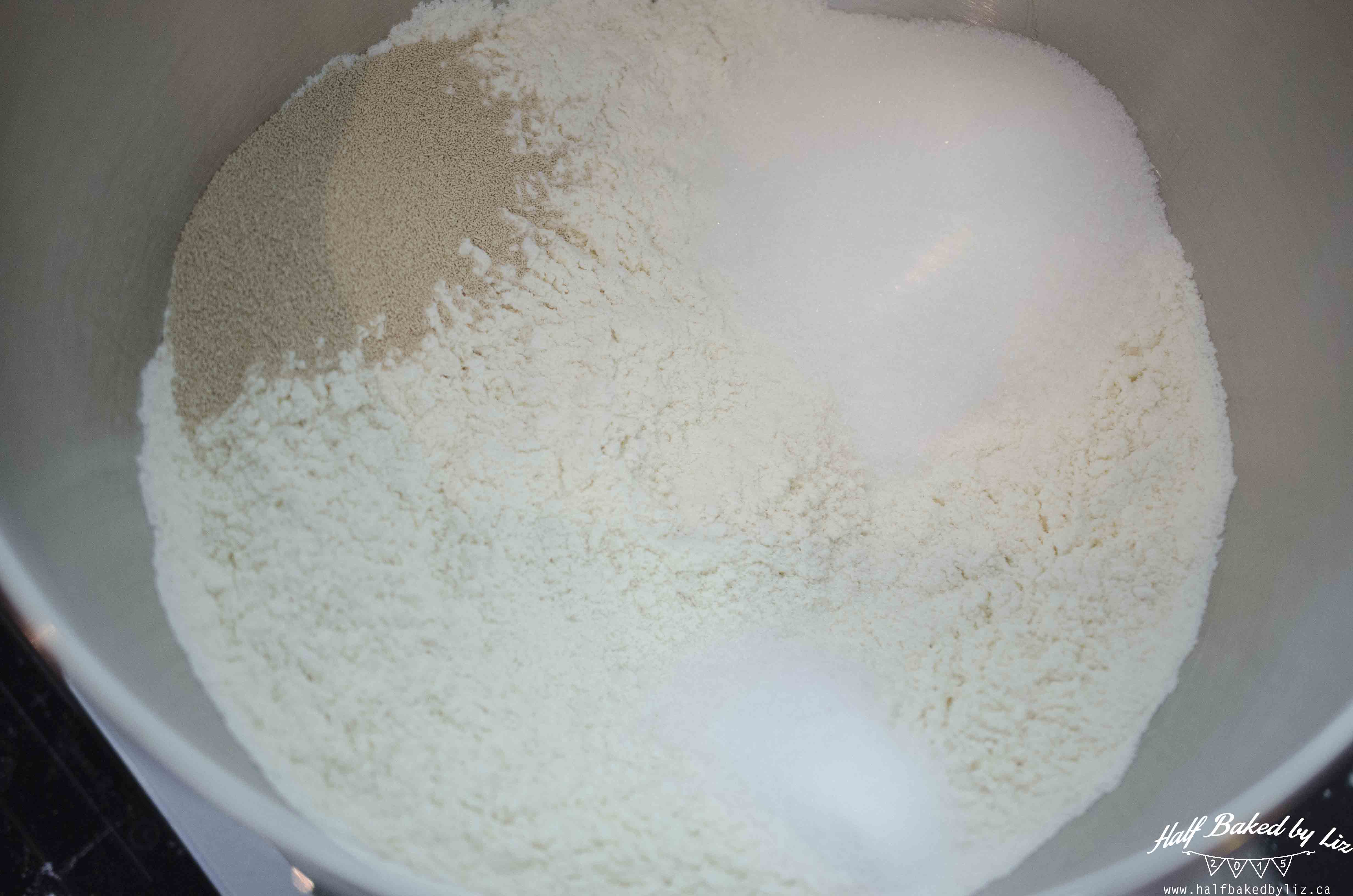 Cut the room temperature butter into several pieces, and add to the dough. Continue mixing on low speed for 15 minutes.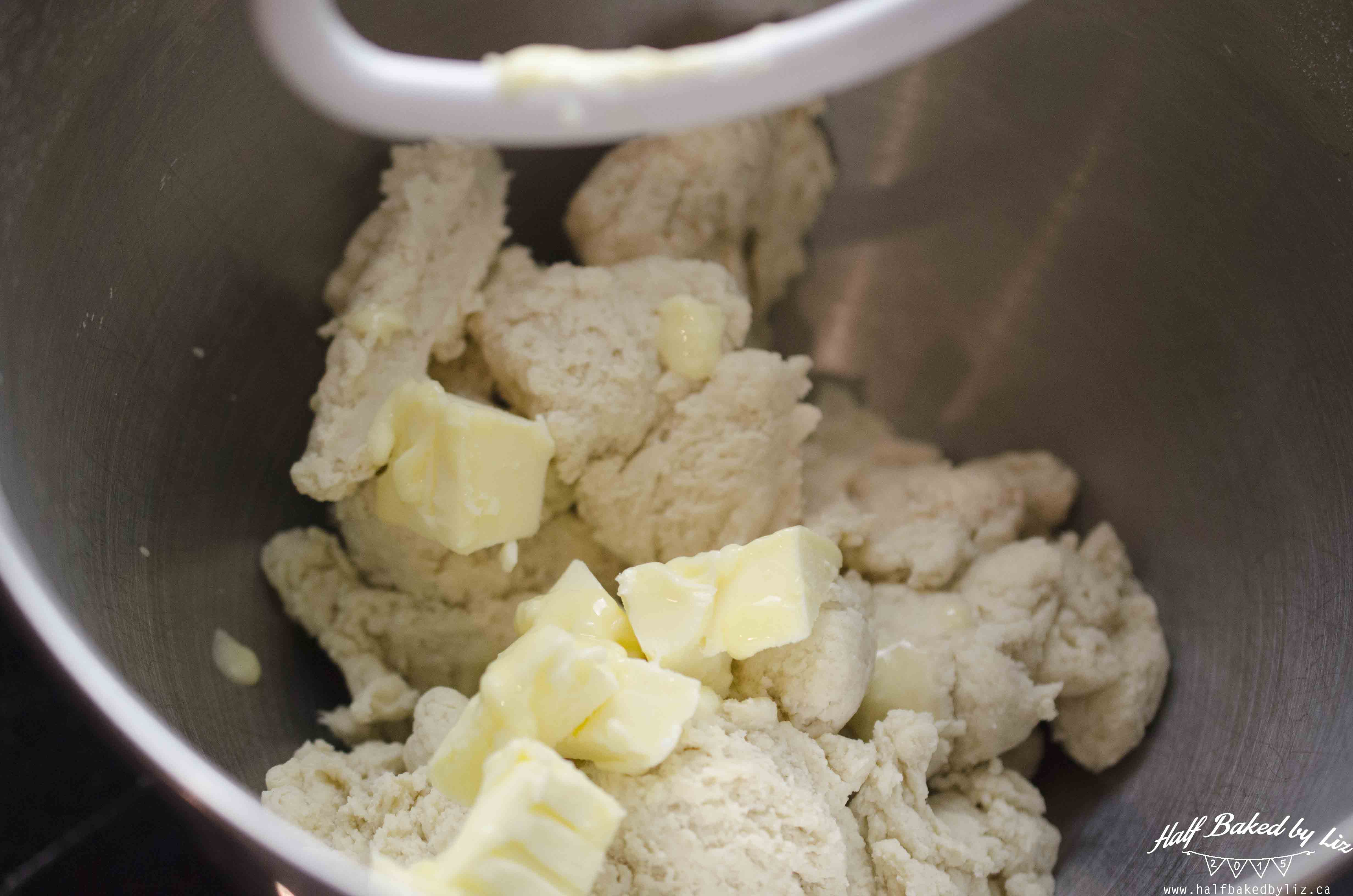 Remove the dough from the bowl, cut into two pieces, and form each piece into a smooth ball. Wrap each in plastic wrap and allow the dough to rest at room temperature for an hour. Then place into the refrigerator overnight.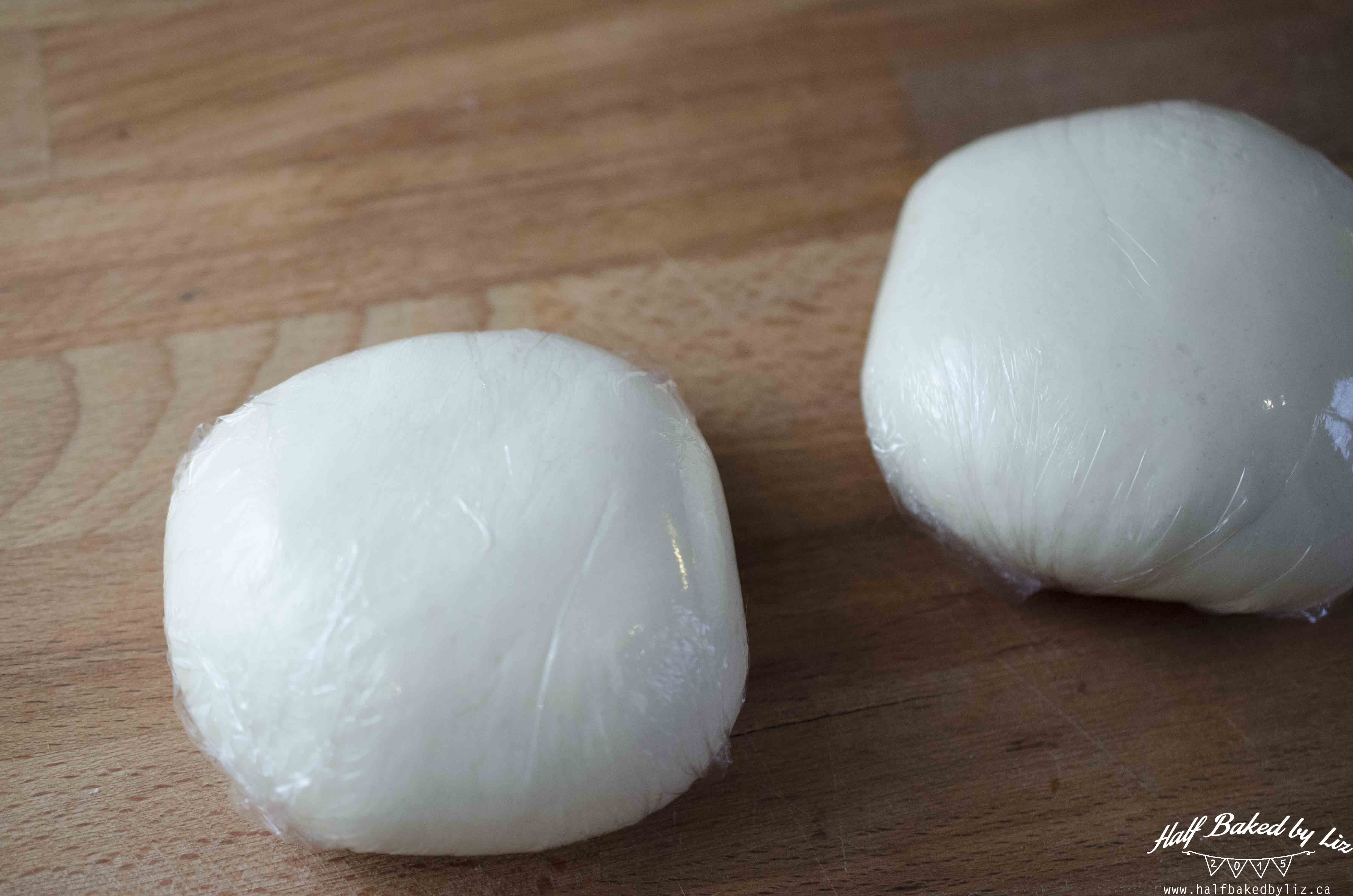 The next day;
Working with just one at a time, roll each ball of dough out into a circle of ~20 cm (~8 inch) diameter. Set aside briefly.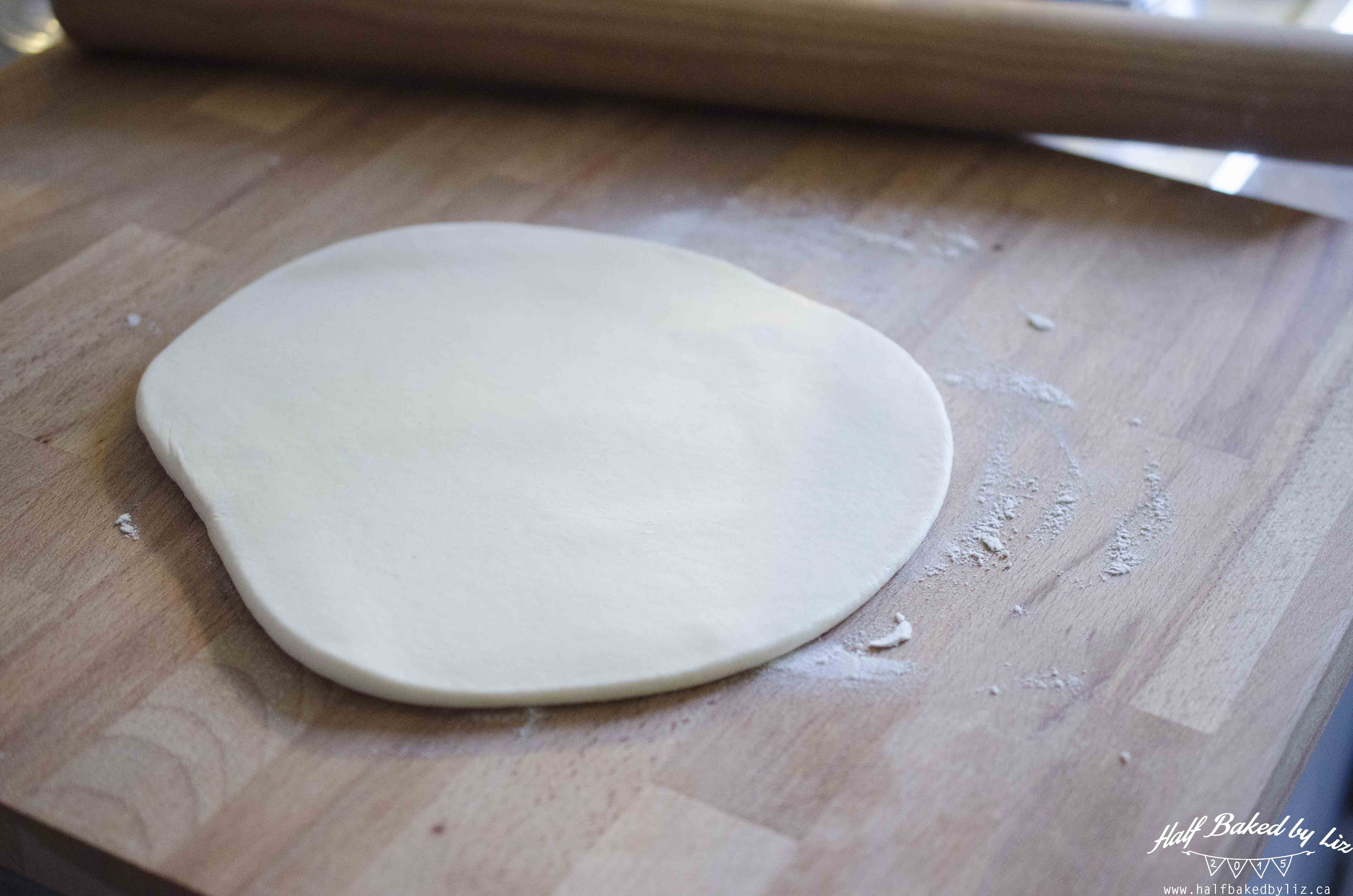 Take one of the 95 g chunks of butter, and using the end of your rolling pin, beat it until it is ~1 cm (~0.5 inches) thick.

Place the butter in the center of the rolled dough, and pinch the dough in, toward the corners of the square of butter. Then fold the dough to surround the butter, much like an envelope. The dough should completely cover the butter, without overlapping too much. Press it into place with your hands.

Next, there are two rounds of rolling and folding, which is what will create the layering / flakiness of the croissants. You'll want to use enough flour to keep the dough from sticking to the surface, but brush any excess off of the dough before folding (a pastry brush works well for this).
For the first round, you'll start by rolling your dough (in only one direction), until it is three times longer than it is wide. Once it is rolled, you'll fold the bottom of the strip up by one-third, and the top down by two-thirds (see photo!). Press lightly into place, and fold in half.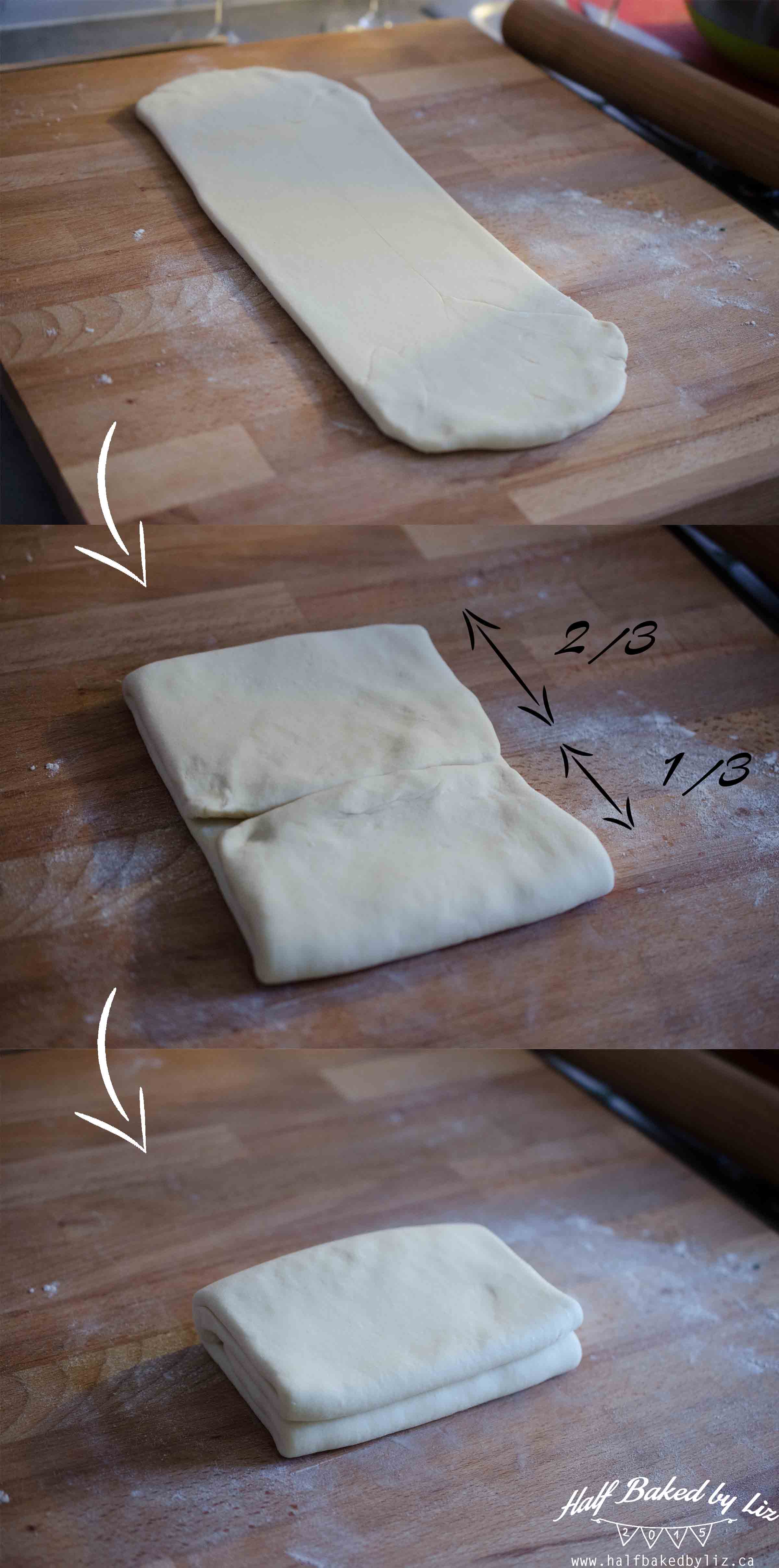 Now you have another square piece of dough, and you'll basically perform the same rolling and folding steps again. Roll in one direction until its four (yep, four this time!) times longer than it is wide. Then fold the bottom up by one-third, and the top down by two-thirds. Fold in half, making sure to gently press into place with each fold.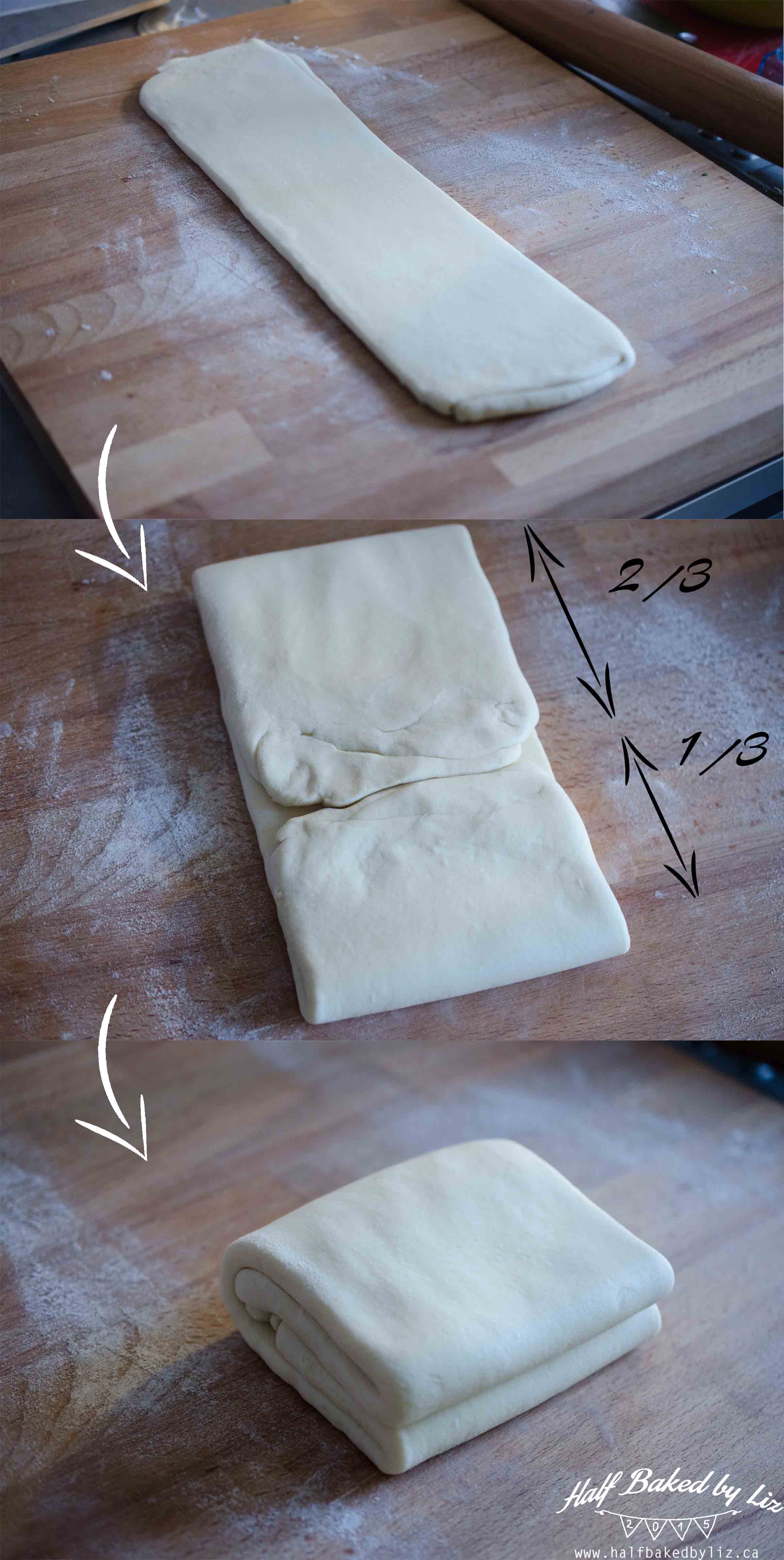 At this point, your dough will need to rest again. Wrap in plastic, and place in the fridge for at least 30 minutes. Don't forget to do the same with the second ball of dough :)
Remove one square of dough from the fridge and roll into a rectangle (about a 4:3 ratio) that's ~3.5 mm (~1/4 inch) thick. Trim any uneven edges away with a knife (cut straight down through the dough and rock the knife – don't pull the knife through the dough!).

Next, divide the rectangle into three equal pieces. Cut each of those pieces diagonally to form a triangle. Then cut a small (~2cm / ~1 inch) slit in the base of each triangle.

Now to roll them up! Turn each triangle so that the tip is pointing toward you. Pull the base apart slightly, and fold it over. Then just use your fingers to roll it up!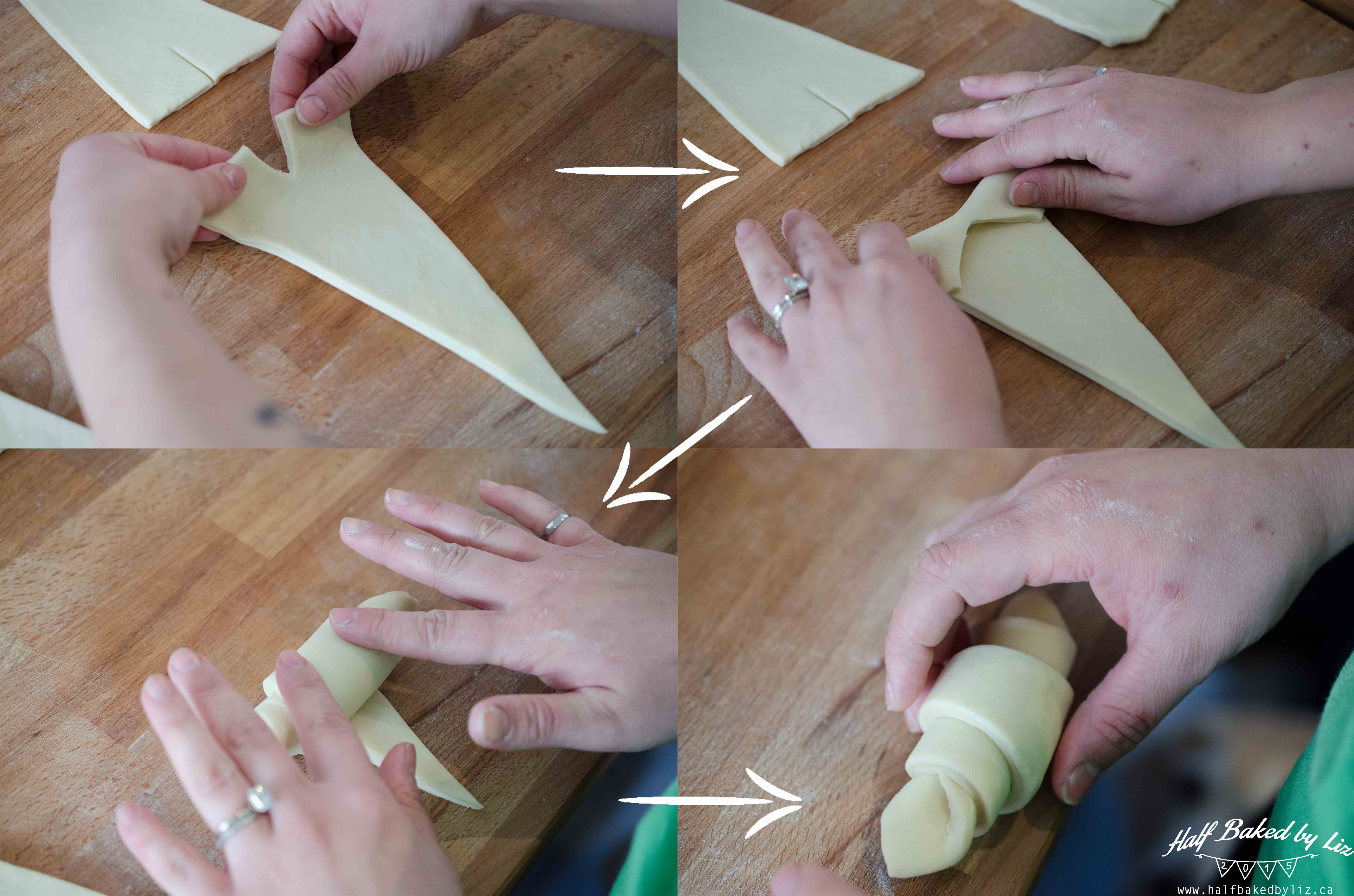 Place the six croissants on a parchment-lined baking sheet, with the point of the croissant on the bottom (otherwise it'll stick off when they rise!). Brush with the egg wash – but only brush back and forth (not lengthwise) or you'll risk damaging all those lovely layers.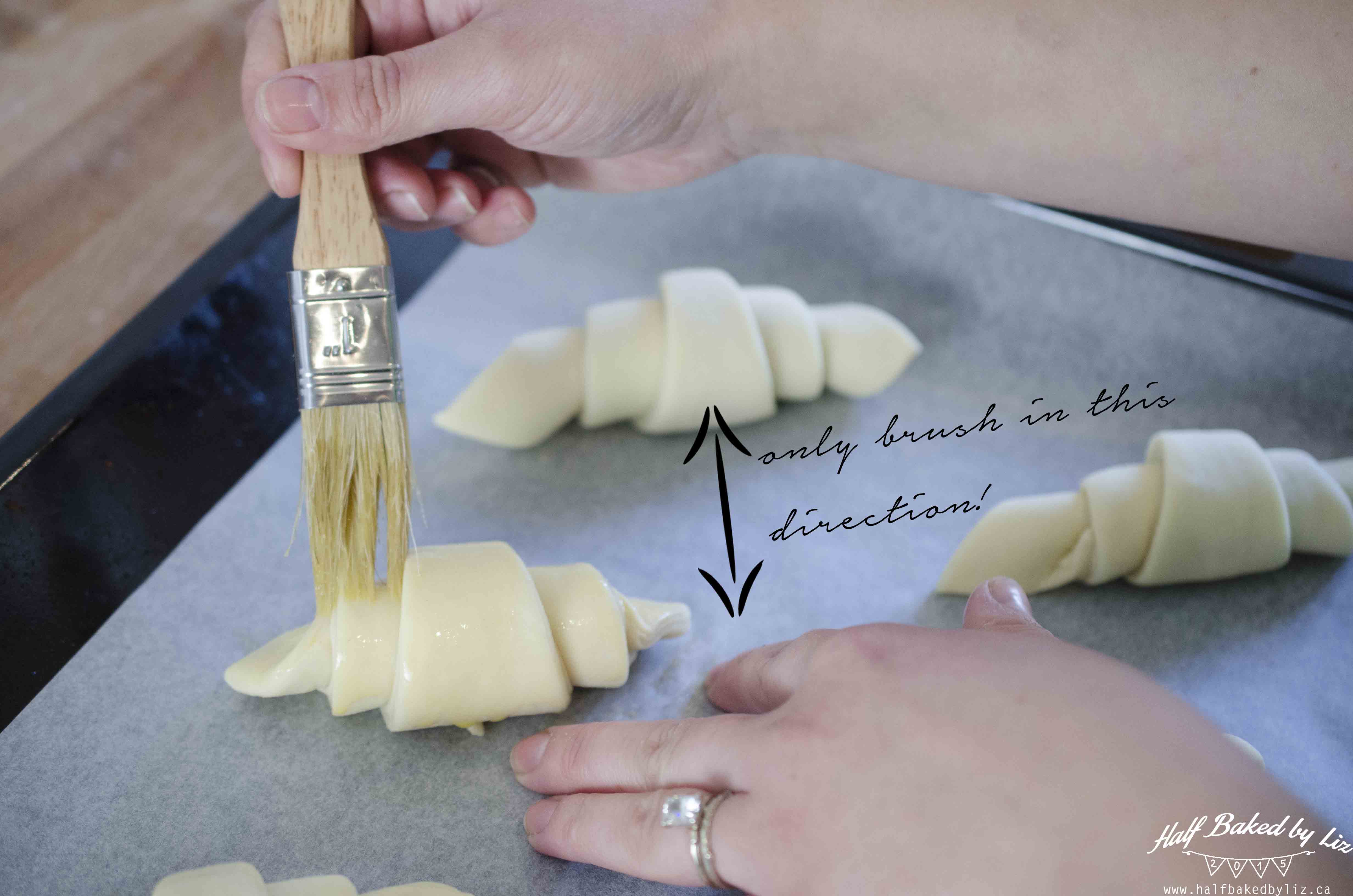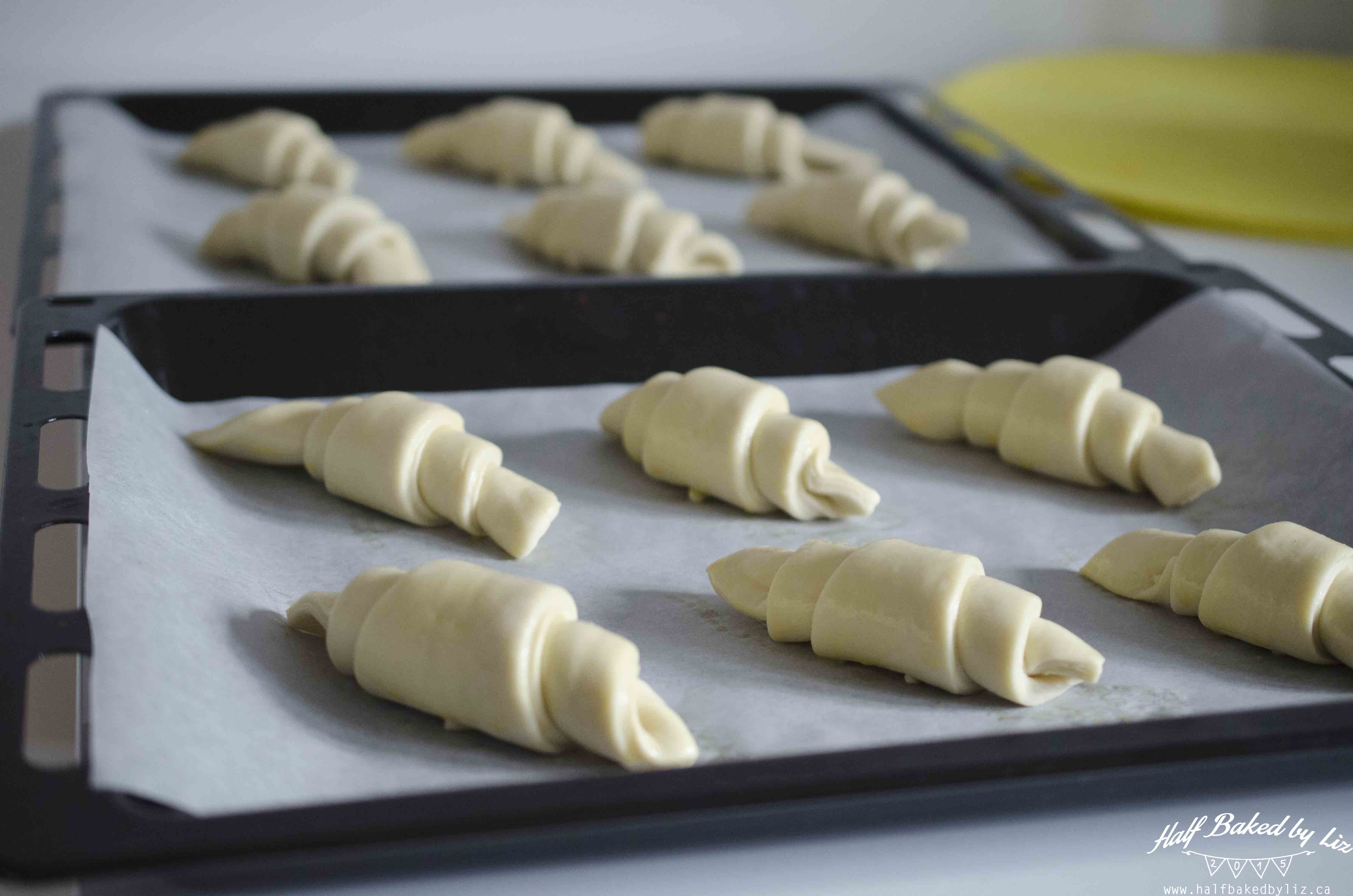 Let them rise at room temperature until doubled in size (about 2 to 3 hours). Once they've risen, brush with egg wash again, but be very gentle!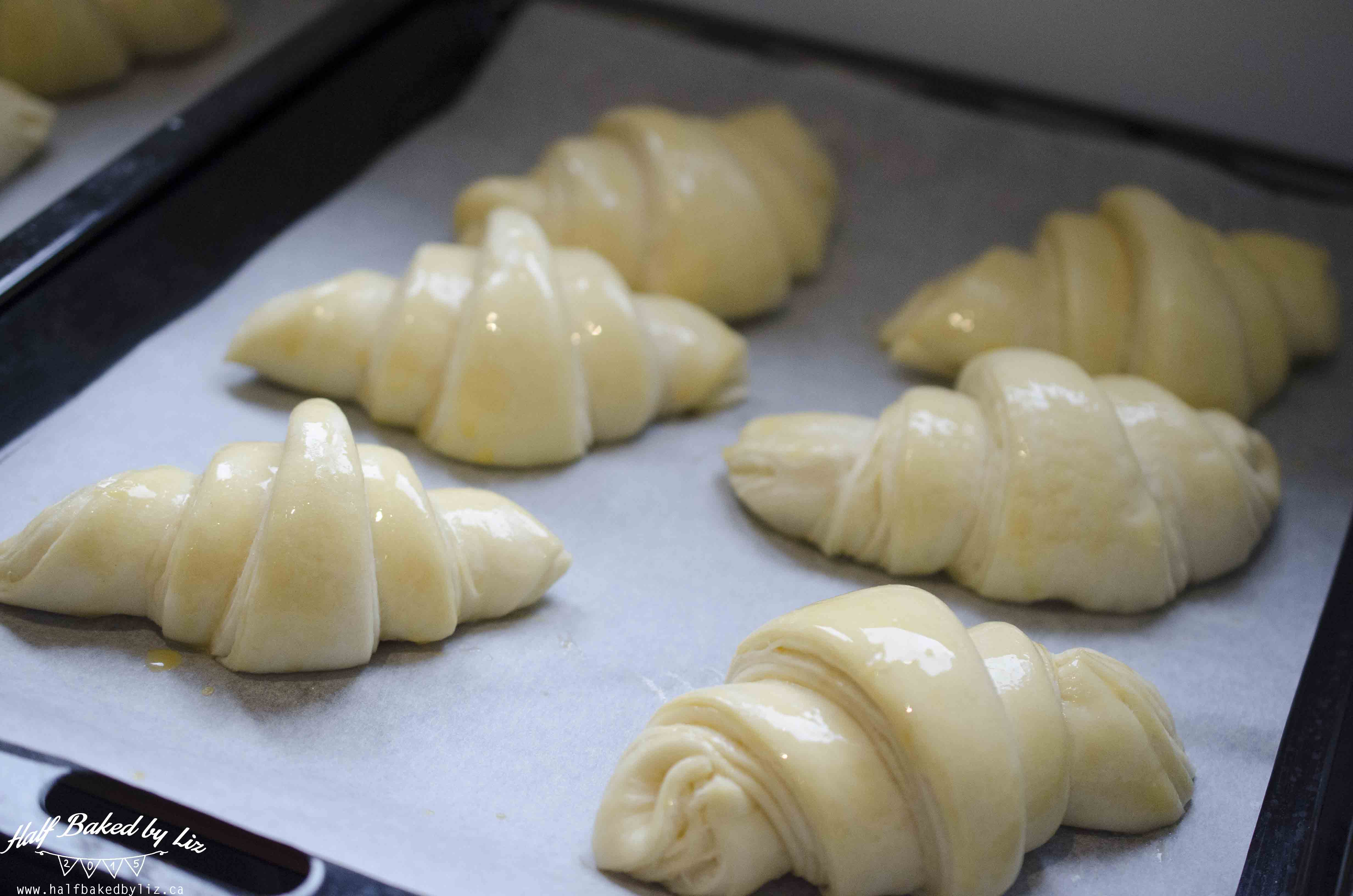 Just look at those buttery layers! Mmmmm…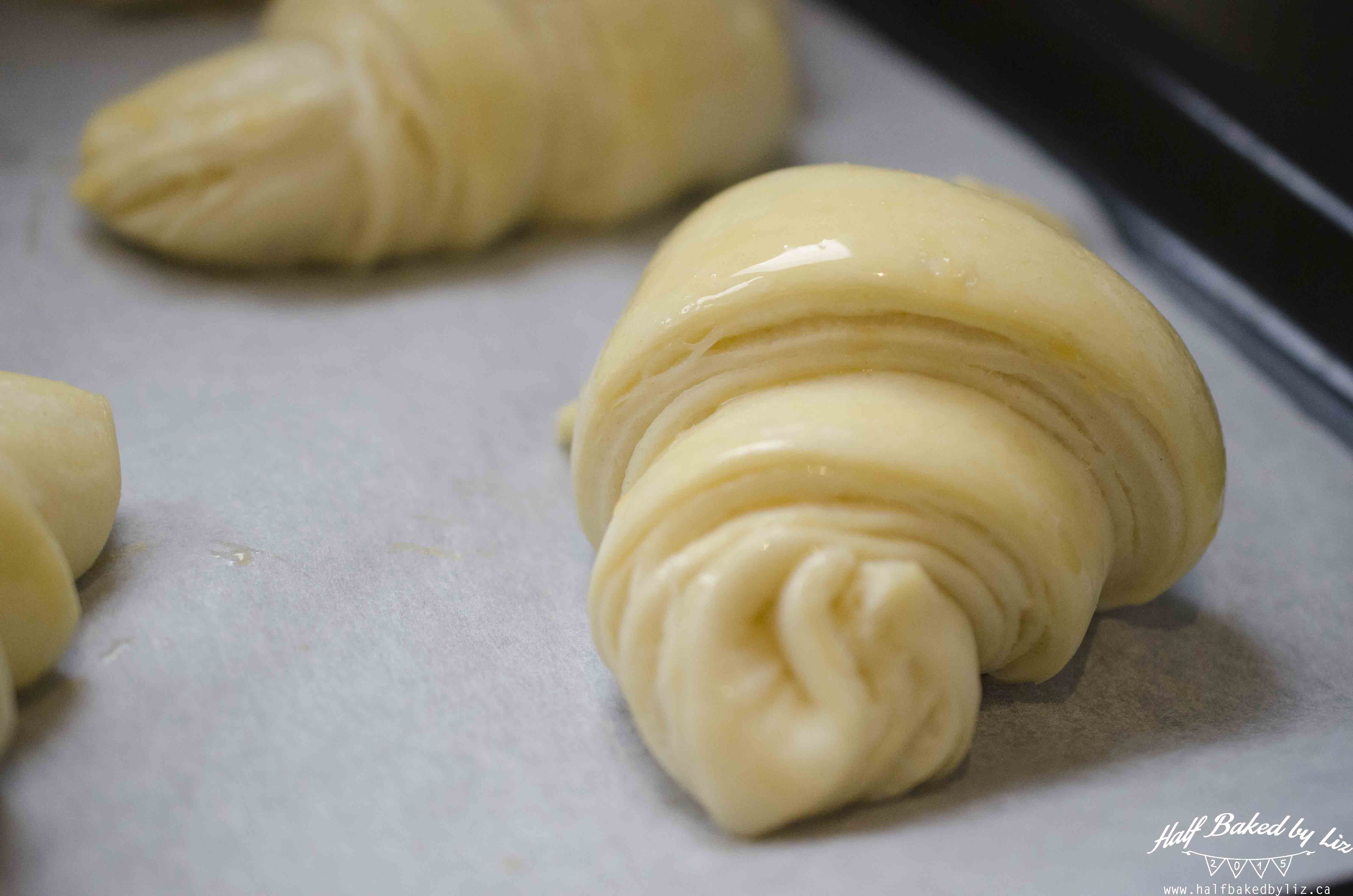 Preheat your oven to 200C (~390F). Just before placing the croissants into the oven, decrease the temperature to 170C (~340F). Bake for ~17 minutes, or until dark golden brown, opening the oven door a crack every five minutes or so to let the steam out.
Okay, so quite a bit of work involved, but SO worth it! They're SO GOOD.