I have to admit that I love trying out new beauty products… everything from shampoo, to makeup, to skin care products. In the past I've also subscribed to various monthly beauty boxes (ipsy, Birchbox, Nailed Kit) not only because getting surprises in the mail is fun, but I loved getting a variety of new things to try every month*. But there are also products that I've been using for years, and no matter how many comparable products I've tried, I always come back to these six favourites.
*I've since canceled all of these memberships, mainly because you can only hoard away so many things before it becomes excessive, and I've really been trying to cut down on how much stuff I have.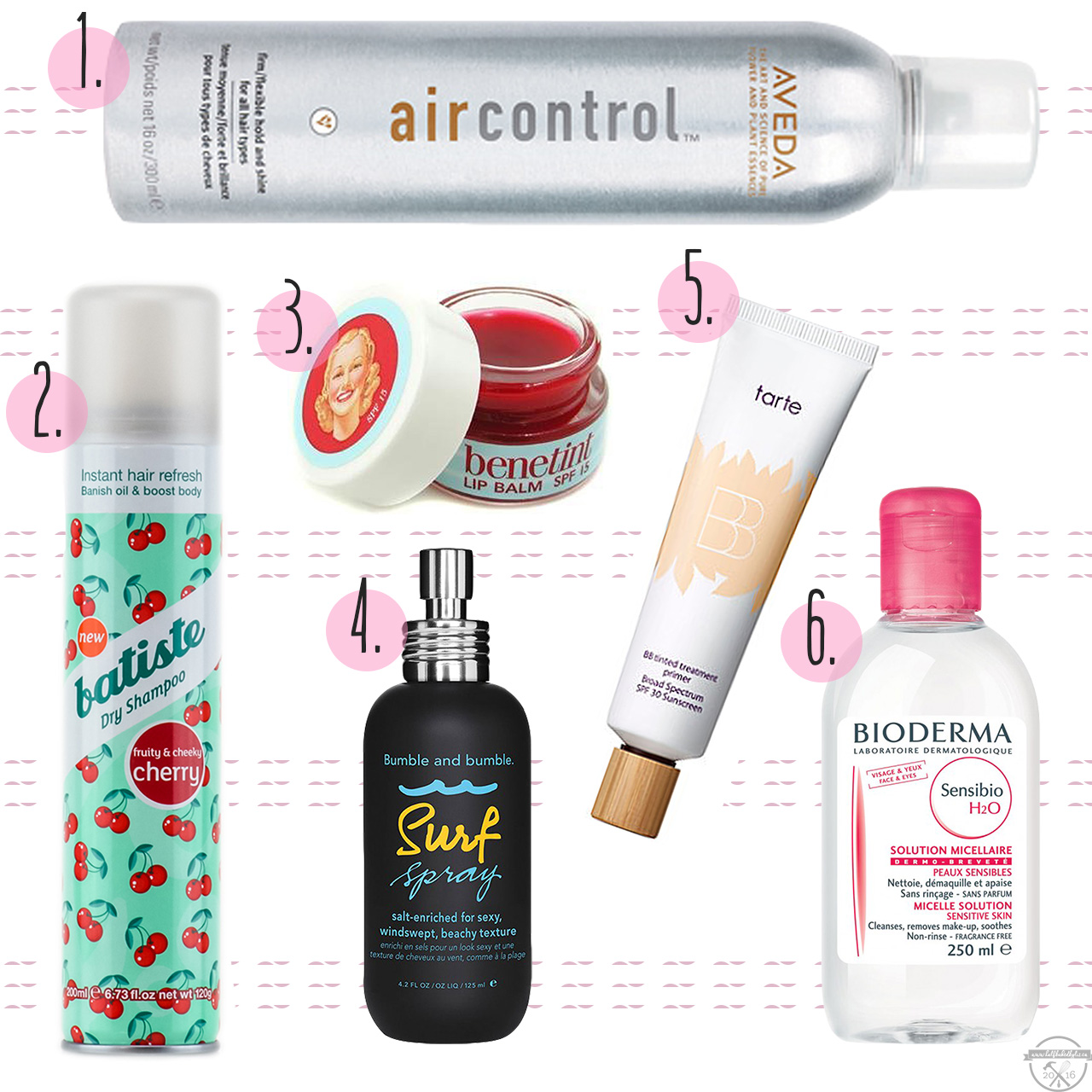 1. Aveda Air Control Hairspray. Although a little on the pricy side, this is the only hair spray I use because it's so much better than any other I've tried. It's super light weight, but holds my (fine, volume-lacking) hair firmly in place.
2. Batiste Dry Shampoo. Easily the best dry shampoo I've used, and at this point I feel like I've tried them all. My hair is really oily, but this dry shampoo lets me skip a day (or two) between washes. It also comes in a brown colour for darker hair. And the XXL Volume version is great for adding texture (even if you have super fine hair like me).
3. Benefit Benetint Lip Balm. I'm pretty sad to learn that this exact lip balm has been discontinued (why Benefit, WHY?!) – but they seem to have a very similar product that now comes in a stick instead of a pot. It adds a little colour, is super moisturizing, and smells like roses.
4. Bumble and Bumble Surf Spray. Gives my hair texture and hold, and smells like the beach. I use it every time I wash my hair, while it's still wet.
5. Tarte BB Cream. I use this cream every day. It's moisturizing, has SPF, and evens out my skin tone (without being heavy like concealer).
6. Bioderma Micellar Water. This is a product I discovered soon after moving to France, and I'm obsessed. It's basically magic water that removes every trace of makeup from your face, and leaves your skin moisturized to boot. I used to use cleanser, followed by toner, followed by moisturizer… but this one product seemingly does it all. Micellar water is super common here in France, so I can't figure out how it hasn't completely invaded North America, because it's awesome. I recently discovered that Shoppers Drug Mart sells it in Canada, so I'm super happy I'll still be able to get it when I move home.